RESULTS
| | |
| --- | --- |
| Miss Philippines Earth 2013 | Miss Olongapo City Angelee delos Reyes |
| Miss Philippines Air 2013 | Miss Nagcarlan, Laguna Kimverlyn Suiza |
| Miss Philippines Water 2013 | Miss Zamboanga City Nancy Leonard |
| Miss Philippines Fire 2013 | Miss West Coast (USA) Alma Cabasal |
| Miss Philippines Eco-Tourism 2013 | Miss Santa Maria, Bulacan Bernadette Mae Aguirre |
| | |
SPECIAL AWARDS
Best in Long Gown - Miss Mabalacat City Aura Donna Garon #19
Best in Swimsuit - Miss Olongapo City Angelee Claudett delos Reyes #28
Miss Photogenic - Miss San Pablo City Darian Bajade #37
Best in Cultural Attire - Miss Misamis Occidental Kristel Suizo #24
Miss Congeniality -
Miss Filipino Community of West Coast USA Alma Cabasal #12
Beauty for a Cause -
Miss Olongapo City Angelee Claudett delos Reyes #28
Top 10 (Semi-Finalists)
1. Miss Nagcarlan, Laguna
2. Miss Misamis Occidental
3. Miss San Manuel, Isabela
4. Miss Cabugao, Ilocos Sur
5. Miss Zamboanga City
6. Miss San Marcelino, Zambales
7. Miss Santa Maria, Bulacan
8. Miss Olongapo City
9. Miss West Coast (USA)
10. Miss Ipil, Zamboanga Sibugay
Question and Answer
Kimverlyn Suiza of Nagcarlan, Laguna (Miss Philippines-Air)
Question
(from ABS-CBN Foundation managing director Gina Lopez): "What is the connection between the environment and quality of life?"
Answer
: "It involves a lot because the quality of the environment also defines the quality of people living in a country. It also defines the economic stability and sustainability of a country, so it also promotes the eco-tourism, for example, to the Philippines, to the rest of the world. Thank you."
Kristel Suizo of Misamis Occidental
Question
(from Emmy Award-winning TV producer Michael Carandang): "Should girls who pose in sexy magazines be allowed to join beauty pageants? Why or why not?"
Answer
: "Beauty, especially women [who] poses (sic) in magazine should also join pageants. Because you are not just possessing [a] body… but also everyone should have, or everyone should give that woman a privilege to prove herself because every woman has its different capacities and different beauty. And with that, we should be responsible."
Lulette Jane Ramilo of San Manuel, Isabela
Question
(from Naderev Saño, undersecretary of the Commission on Climate Change): "The winner of this competition will be, in a big sense, the spokesperson for mother earth, because mother earth cannot really speak for herself. What will be, as a spokesperson for mother earth, what will be your message to your generation?"
Answer:
"Okay, thank you for that question, sir. In line with my profession three years from now as an education student, I can give my student true education, help them with seminars [and] workshops, because I do believe if they will establish discipline, changes will follow. Thank you."
Jannie Loudette Alipo-on of Cabugao, Ilocos Sur
Question
(from Twitter): "How would you feel if you were competing against women who have undergone plastic surgery?"
Answer
: "For me, the girls who [have] undergone plastic surgeries… for me, I would not recommend them to do surgeries because beauty is all about [being] natural. You have to be proud and you have to be satisfied [with] what God gave you. But if you want to be born beautiful and if you are not satisfied with what God gave you, well, surgery will do better. But for me, natural [beauty] is the [real] beauty."
Nancy Leonard of Zamboanga City (Miss Philippines-Water)
Question
(from Dubai-based Filipino fashion designer Michael Cinco): "Who do you think make better elected officials, showbiz personalities or traditional politicians? Why?"
Answer
: "I think that the officials should be voted as a person who has a good heart that can serve his people, [someone who is] bright as well as is… the Philippines, if you are in the Philippines, so, um, he should serve his people, and also his land. Because I believe that the land where we are, are also the ones… are the place where we live in. And I believe that it should be given priority. That is all. Thank you."
Janine Asanion of San Marcelino, Zambales
Question
(from talent manager Arnold Vegafria): "My question is about [the] political system in our country. Should political dynasties be allowed to continue, or should a law finally be passed to stop it, and why?"
Answer:
"Thank you for that question, sir. For me, if the political dynasty is serving well and [is an] environmental advocate, it is okay to continue their service, for the future. That's all, thank you."
Bernadette Mae Aguirre of Sta. Maria, Bulacan (Miss Philippines-Eco-Tourism)
Question
(from Agnes Roscigno, wife of Italian ambassador Massimo Roscigno): "Among the ten of you deserving finalists tonight, why should I select you as 2013 Miss Philippines-Earth?"
Answer:
"Thank you for that question, ma'am. Should I become the Miss Philippines-Earth 2013, I would want to extend my help to my fellow Bulaceños. I want to help in reviving the Marilao-Meycauayan-Obando river system… which is [in] the list of the most populated place (sic) in the world. And I also want to change the mindset of the people... thank you."
Angelee delos Reyes of Olongapo City (Miss Philippines-Earth)
Question
(from F1 Hotel Manila general manager Laurence Peña): "Beauty pageants usually choose their winners based on beauty of face, figure and intelligence. My question is, if you could add a criterion to pick the winner, what would it be and why?"
Answer:
"Of course, if I could add another criteria (sic) to having a healthy body, sound mind and engaging personality, beautiful face and beautiful body, I will add a good heart or a genuine heart to take care of the environment. Because Miss Philippines-Earth is here to tall to all of us that we must take care of our environment, not only for ourselves but also for future generations. Thank you."
Alma Cabasal of Fil-USA West Coast (Miss Philippines-Fire)
Question
(from Czech ambassador Josef Rychtar): "Should you win tonight, what would you advise politicians to improve protection of [the] environment in the world or in the Philippines?"
Answer:
"I would advise the politicians who won in the recent elections to please become an environmental advocate as well because we do need help. Us (sic) ladies are not just pretty faces and full of advocacy for the environment – we do need power as well. And since you have the power, please do help us to save mother earth, especially here in the Philippines. Thank you."
Athina Karla Chia of Ipil, Zamboanga Sibugay
Question
(from celebrity Iya Villania): "My question for you is actually from one of my followers on Twitter. And she tweeted, from Francis Castillo, 'how would you address the Tubbataha Reef incident that have happened recently here in the Philippines?'"
Answer
: "Honestly, I'm not pretty sure with the Tubbataha Reef issue. But what I know is there's a problem that the Chinese are... they are trying to pollute whatever we have resources right now. So I think that we Filipinos should take care of our environment very well, and guard it, since other countries are trying to get our flora and fauna. That's all, thank you."
HOSTS

The main host for the event will be 2006 Miss Philippines Earth Air Ginger Conejero who will be assisted by co-hosts Sandra Inez Seifert (2009 Miss Philippines Earth winner) and Karla Paula Henry (2008 Miss Philippines Earth and Miss Earth winner).


JUDGES
Commissioner Naderev Saño - Undersecretary, Commission on Climate Change

H.E. Josef Rychtar - Ambassador Extraordinary & Plenipotentiary, Embassy of Czech Republic

Mrs. Agnes Roscigno - Spouse of the Italian Ambassador

Regina Paz Lopez - Managing Director, ABS-CBN Foundation Inc.,

Michael Carandang - Emmy Award Winner International TV Producer and Top Model Philippines Photo Shoot Director

Michael Cinco - Dubai-based International Filipino Designer

Laurence Peña - General Manager, F1 Hotel Manila

Arnold Vegafria - Talent Manager/Owner, ALV Talent Circuit

Iya Villania - TV Host/Celebrity/Commercial Model


The candidates will be judged according to a criteria that allots 60% to beauty, face, poise and figure and the remaining 40% to intelligence, personality and attitude.


It will be held on May 19, 2013 at the Mall of Asia Arena, Pasay City, Philippines.
The pageant has aligned itself with the 2013 declaration of the United Nations General Assembly as the "International Year of Water Cooperation."


Telecast on ABS CBN's Sunday's Best, 10:30PM

The top three candidates with the highest accummulated facebook "likes" and website votes were awarded as the Most Photogenic at Seventh High. Miss San Pablo City Darian Bajade with 13,834 votes won the gold medal, the silver medal went to Miss Zamboanga City with 8,935 votes and Miss San Pascual with 8,749 votes bagged for the bronze medal.




Chosen as the Best in Evening Gown for Miss Philippines-Earth 2013 and awarded with the gold medal for the said category was Miss Mabalacat City Aura Donna Garon. Miss Cabugao, Ilocos Sur and Miss Taguig City received silver and bronze medals, respectively.
It was a night of competitive glamour and originality at the cultural evening of cocktails at the SMDC showroom where the Miss Philippines-Earth 2013 beauties displayed their most artistic and flattering national attires tailored by some of the countries fashion designers. A distinguished panel of judges awarded the Bronze medal Miss Cebu City, Silver to Miss Zamboanga and Gold went to the evening's charmer, Miss Misamis Occidental Kristel Suizo.




The Miss Philippines-Earth 2013 candidates competed for the Best in Swimsuit award at Golden Sunset Resort in Calatagan, Batangas on April 13. The winners were: Miss Olongapo City Angelee Claudett delos Reyes (Gold), Miss Taguig City (Silver) and Miss Sogod, Cebu (Bronze).
CHALLENGES AND ACTIVITIES
CATWALK AND STYLING CHALLENGE AT ROBINSONS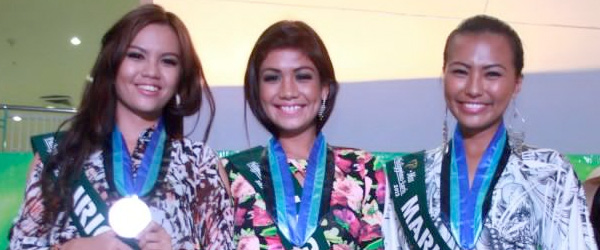 Catwalk and Styling Challenge winners for Group 1: Legazpi City (Gold), Iriga City (Silver) and Mabalacat City (Bronze)




Catwalk and Styling Challenge winners for Group 1: Olongapo City (Gold), Fil-USA West (Silver) and Municipality of Cabugao (Bronze)


TRIVIA CHALLENGE WINNERS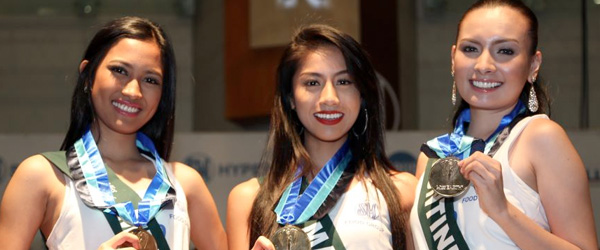 Our most knowledgable ladies from last night's event! Congratulations to our Trivia Challenge winners - Bronze: Miss R.T. Lim, Silver - Miss Muntinlupa City, Gold: Miss Mabalacat City.


PRESS CONFERENCE AT F1 HOTEL MANILA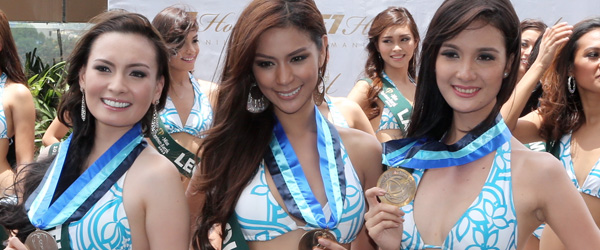 The newest batch of Eco-Beauties competing in this year's MISS PHILIPPINES-EARTH officially introduced themselves at the press conference held at F1 HOTEL MANILA, the official residence of MPE 2013. These "Beauties for a Cause" proudly presented the media their advocacies for cleaner environment and wise voting at the elections. Apart from the exciting new challenges which the candidates will engage in, the pageant will be staging an original, revolutionary experience in pageant history which will be the most awaited highlight of the coronation night happening on May 19 at the MOA Arena, telecast on ABS CBN's Sunday's Best.

The three Miss Philippines-Earth 2013 favorites were voted by the media as their "Darling of the Press" awarding Miss Nagcarlan the Bronze, Miss Muntinlupa with Silver and Miss Olangapo with the Gold medal.


COOKING CHALLENGE WITH BOUNTY FRESH AND SM HYPERMART
The girls showed how a children's party can be tastier with Bounty Fresh Chicken and Chicken Hotdogs and of course, their culinary prowess! Congrats to our winners - Bronze: Marilao, San Marcelino, Calapan, Boljoon, Makati, Mabalacat, Zamboanga, Cebu City. Silver: Ipil, Bacolod City, Sogod, Tanza, Cabanatuan, Tanauan, Talisay. Gold: San Pedro, Quezon City, Caloocan, Rodriguez, Lipa, Olongapo, Paranaque.


BIG SISTER FOR A DAY WITH THE GAWAD KALINGA KIDS


The Miss Philippines-Earth 2013 candidates became "Big Sisters for a Day" for the Gawad Kalinga Kids at Storyland and at The Croods. The "Big Sister" winners voted by kids were Miss Caloocan City (Gold), Sogod,Cebu (Silver) and Dipolog City (Bronze).


DANCE COMPETITION AT THE ENCHANTED KINGDOM
The Dance Competition was held at the Enchanted Kingdom last April 14. The winners were Miss San Marcelino, Zambales (Gold), Miss Muntinlupa City (Silver) and Miss Mabalacat City (Bronze). The Dance Competition is the first leg of the Talent Competition. Medal points will be added to the other talent events.


RESORTS WEAR COMPETITION AT PONTEFINO
The Miss Philippines-Earth 2013 candidates competed for the Resorts Wear category at Pontefino Hotel and Residences in Batangas on April 12. The winners were: Bronze- Miss Taguig City, Silver- Miss Misamis Occidental and Gold- Miss Cabugao, Ilocos Sur.


MAKE-UP CHALLENGE WINNERS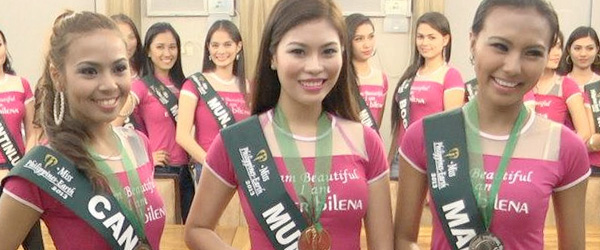 Make up Challenge with Ever Bilena Cosmetics. The winners are: Bronze: Candon City, Silver: Marikina City, Gold: Mun. of Sogod, Cebu.


MOST ENTHUSIASTIC LEARNERS
After the personality development and catwalk trainings, the Most Enthusiastic Learners were awarded: Bronze: Cebu City, Silver: Zamboanga City, Gold: Mun. of Santa Maria, Bulacan.


TRIVIA


Candidate #16 (Iriga City, Camarines Sur), Katherine Dominique Lagrimas was Mutya ng Pilipinas 2009 Top 12 semifinalist,,
Candidate #17 (Lipa City, Batangas), Jillian Kristen Deveza was Mutya ng Pilipinas 2012 Top 10 semifinalist
Candidate #19 (Mabalacat City, Pampanga), Aura Donna Garon was Miss Philippines Earth 2010 candidate
Candidate #28 (Olongapo City, Zambales), Angelee Claudett delos Reyes was Binibining Pilipinas 2012 Top 12 semifinalist, Miss Philippines Earth 2009 candidate, Mutya ng Pilipinas 2007 Top 15 semifinalist, Miss Bikini Philippines 2011 winner, Miss Bikini International 2011 Top 12 semifinalist, Miss Supermodel International 2012 Top 8 finalist and received Miss Supermodel Asia Pacific 2012 award
Candidate #39 (Santa Maria, Bulacan), Bernadette Mae Aguirre was Binibining Pilipinas 2011 candidate