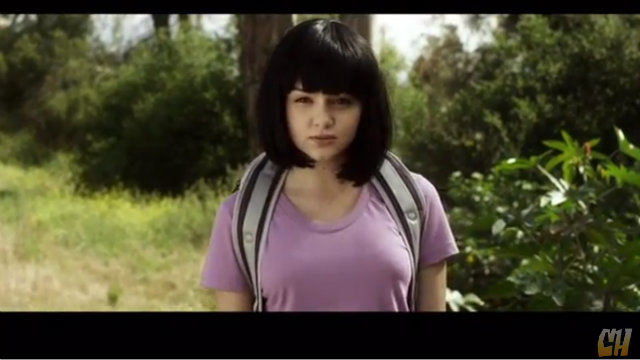 They are doing it for real.
In what is further proof that web video are the entertainment of the future, "Modern Family" star Ariel Winter is the star of a new online series on College Humor. The three-part series is a funny, action-packed take on the popular kids' TV show "Dora the Explorer."
This live-action version, definitely not for kids, finds characters from the show in a large action-adventure setting, similar to "Indiana Jones." Dora, her friend Diego, and trusty pet monkey Boots are in search of the Destiny Medallion, and they have to get to it before Swiper, no longer a fox, does. If they don't, he'll swipe it, because that's what he does.
The shorts have fun playing with aspects of the TV show, including Dora addressing the camera, waiting for the audience to solve puzzles for her, and translating Spanish to English. The first two episodes have been released, with the third scheduled to come out next week. The series was created after a fake movie trailer done in the same style, also featuring Winter as Dora, received such a positive response.
Check out the installments of "Dora the Explorer and the Destiny Medallion" below, however be aware there's some foul language and violence in the videos:
Watch "this trailer for the real thing based on the fake trailer."
Get regular updates straight from your Facebook and Twitter accounts with The Blog of Innocence: SilentVoice Points.
Make sure that
you keep
informed about the latest happenings around you. Be a fan of
VoicePoints page on Facebook
. Join the online conversation of the people behind your history. Follow and get some tweet updates from
@voicepoints on Twitter
. Discuss and be a part of this changing world.
We

believe in

your voice. We believe in you. Shout! Speak your mind! Join now! You have the right. You have the freedom!