Social networking has been responsible for plenty of celebrity 'oversharing' of late. And Sports Illustrated model Chrissy Teigen appears keen to get in on the act.
The 27-year-old American model is seen completely in the buff while getting a spray tan from her make-up artist in a picture posted on her Instagram account.
Chrissy, who is of Thai-Norweigan heritage, is seen laughing while getting a full body touch up, showing her stunning figure in all its glory.
And fearing a Madonna style censorship by Twitter she tweeted: 'If this doesn't get me suspended I dunno what will #happy2000000.'
@chrissyteigen

christine teigen
While the photo is now gone, Chrissy's Instagram account is still up and full of other pretty, non-NSFW pics. But knowing Chrissy (and by knowing, we mean following on Twitter), it won't be long until this irreverent model serves up some more social media hijinks.
See the now-deleted, NSFW-ish photo below: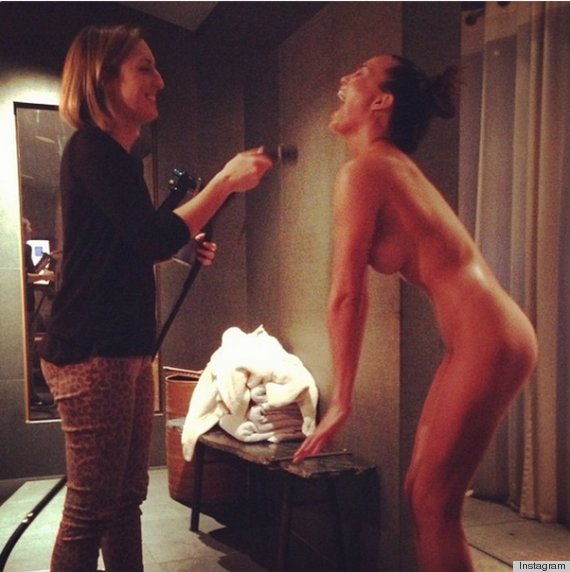 @chrissyteigen

christine teigen
Lol I wrote two million. Whatever. Same thing kinda not really at all.
Her Twitter and Instagram fans had mixed reactions, but most seemed to be big fans of the photo (unsurprisingly).
@chrissyteigen

christine teigen
Shit. I didn't think it was that bad but I'm on the wine
@chrissyteigen

christine teigen
It's not a nipple it's a shadow it's not a bush it's a shadow oh god I just blew it up on my computer I get what you're saying oh no
As Gawker notes, the photo stayed up for at least 11 hours. But it was eventually taken down.
@chrissyteigen

christine teigen
:( now I is gonna be suspended times
More fashion stars who love being naked:
Get regular updates straight from your Facebook and Twitter accounts with The Blog of Innocence: SilentVoice Points.
Make sure that
you keep
informed about the latest happenings around you. Be a fan of
VoicePoints page on Facebook
. Join the online conversation of the people behind your history. Follow and get some tweet updates from
@voicepoints on Twitter
. Discuss and be a part of this changing world.
We

believe in

your voice. We believe in you. Shout! Speak your mind! Join now! You have the right. You have the freedom!