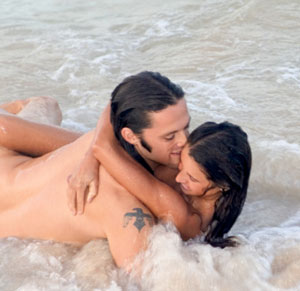 If you plan on getting down and dirty in the water – follow these top tips to have a splish-splashingly good time…
Get clean while being filthy by adding some water play into your sex life. Whether it be in the shower, pool or sea, follow our tips for keeping healthy while having a wet 'n' wild ride…
The golden rule
Remember – sex outdoors in a public place is always an offense. So you might want to give the local water park a miss.
Make sure it's safe to go into the water
Don't get carried away, you still have to practice safe sex and unfortunately – condoms and water do not mix.
Hot water and chemicals like chlorine can affect the durability of the condom, whilst the water can also make them more likely to slip off. There has still not been enough research on the effects of different types of water on condoms – so practice caution.
Make sure you are extra careful before jumping in as you can still get pregnant or catch STIs in the water.
Slip 'n' slide
You'd think all that water would keep things extra lubricated – but unfortunately it's not the case. Blast.
All that water actually washes away the natural lubrication from a woman's body – which can create a tad of friction. Ouch. It can also mean extra pressure on a condom, creating a tear risk.
Try using a silicone lubricant which isn't water-soluble to help keep the pleasure tides riding high.
However – avoid oil based lubricants that say they are safe for use in water as these destroy the latex of condoms.
Clean water supply
Be careful with the type of water you have sex in. Lakes, rivers, oceans, pond water – all of these contain bacteria that you will be essentially pushing into your lady bits – this can put you at risk of infection.
However swimming pools contain strong chemicals that could irritate you, as chlorine can alter the natural pH balance in the vagina leading to infection.
Try the bath or shower to keep yourself squeaky clean and if venturing outdoors, be careful and pick your sexy swimming location carefully.
Then we did it in the shower
Try playing around in the bath and shower – although you have the same issues with friction and protection – you can have a lot of fun playing around with suds.
Foreplay is the key to having a good time in the bathroom. Clean and scrub each other everywhere you can think of (but ladies be careful of highly perfumed products irritating your sensitive bits!)
You could also try
The female condom. Water is not as likely affect these as they are inserted into the female body and so have less exposure to the water, and has a better chance of not slipping out.
The female condom is also lubricated, so if you insert it before entering the water, it is less likely to wash off.
Underwater sex can be amazing, but to keep it safe and enjoyable by planning ahead with these easy steps. Splish splash away!
Get regular updates straight from your Facebook and Twitter accounts with The Blog of Innocence: SilentVoice Points.

Make sure that

you keep

informed about the latest happenings around you. Be a fan of VoicePoints page on Facebook. Join the online conversation of the people behind your history. Follow and get some tweet updates from @voicepoints on Twitter. Discuss and be a part of this changing world. We

believe in

your voice. We believe in you. Shout! Speak your mind! Join now! You have the right. You have the freedom!