Miss Philippines - Earth 2012 Talent Competition at Versailles, Alabang
Miss Philippines - Earth 2012 Evening Gown Competition
Miss Philippines - Earth 2012 Creamsilk Challenge at SM Mall of Asia and SM Makati
THE EARTH HAS A NEW HOME AT THE FORT
Manila – May 4, 2012. F1 Hotel welcomes the warriors of the Earth, thus finally stamping its mark as the Official Residence of Ms. Philippines Earth 2012.

With its grand launch last March 21, 2012, F1 Hotel's events prove to be more exciting and spectacular as the first five-star hotel at the Fort becomes the official residence of Ms. Philippines Earth 2012 delegates. Guests from Carousel Productions, the propagator of Ms. Philippines Earth and Ms. Earth International, together with its candidates for Ms. Philippines Earth 2012 as well friends from the media were ushered into F1 Hotel's Infinity Ballroom and were warmly received by F1 Hotel's Sales and Marketing Team headed by their Director of Sales and Marketing Ms. Cindy Brual.
Host of the night Ms. Catherine Untalan, Ms. Earth Foundation Executive Director, opened the ceremony by presenting this year's 50 gorgeous candidates coming from the different part of the country. The upcoming beauty queens were later on welcomed by F1 hotel's General Manager, Mr. Hugh Campbell. "F1 Hotel is thrilled and honored to welcome the ladies of Ms. Philippines Earth 2012. Housing such ladies here in our hotel with an advocacy to preserve the earth is something very significant and valuable to us. This is actually the first beauty pageant that the hotel will be hosting so we assure you that we will give these ladies the first and premier class service. The world class beauty of these Filipina Earth Warriors deserves the world-class state-of-the-art F1 Hotel," says Mr. Campbell with pride.

Best Western Premier F1 Hotel is located at 32nd street, Bonifacio Global City. For more information, call 928.9888/908-7888 or visit www.bestwesternpremierf1hotel.com. Like us on Facebook and on Twitter.
MISS PHILIPPINES EARTH 2012 ENVIRONMENTAL FAIR
In line with the nation's Earth Day activities, the candidates of the Miss Earth Philippines pageant showcased their creative side at the Environmental Fair held at SM Mall of Asia, April 21, 2012 as a collaborative project of SM Food Group and the Miss Earth Foundation, Philippines. The exhibit of collage artwork of each candidate which features visuals expressing their personal green act was publicly viewed as each candidate explains to visitors their pro- environment ideas behind their art pieces. Among the collection, Lara Theresa Leones' (Miss Cainta) proved to be the most outstanding interpretation, while Cristlet Gerona (Miss Pagadian) and Janica Burasca (Miss Cebu) were voted for second place and third place respectively.
The Miss Philippines Earth 2012 beauties once more proved their competiveness by outdoing each other by the SM Supermarket Dasmarinas Cavite with their singing and dancing talents on April 28, 2012 . The ladies were divided into their 8 color groups to do their own creative rendition of the official Miss Philippines Earth song, "Woman of the Earth." Declared winners of The Singing and Dancing Challenge were the Yellow Team composed of; Peincess Manzon (San Francisco, Cebu), Margaret may Llavor (San Fernando), Glenna Christina Duch (Negros Occidental), Christina Jana Siratranont (Bantay,Ilocos Sur), Jade Charmaine Manago (Misamis Occidental) and Kathleen Subijano (Muntinlupa), with second placer Orange Team members; (Nabua), Jem Francelle Sanilo (Catarman), Jennifer Grace Alberto (Floridablanca), Candice Ramos (Vigan), Kristina Cassandra Buac (Zamboanga), and tied up at third place were Violet and Blue Team; Cristlet Gerona (Pagadian), Roxanne Corluy (Belguim Filipino Community), Quennie Uy (Batangas), Roanne Marie Noche (Mun. of Calaca), and Alvey Faith Pel-ey (Iriga), Dianne Dreyfus (Bacolod), Stephany Dianne Stefanowitz (Quezon City), Melanie Belina (Calapan), Dorothy Joy Pagurayan (Cabugao), Zandra Flores (Manaoag).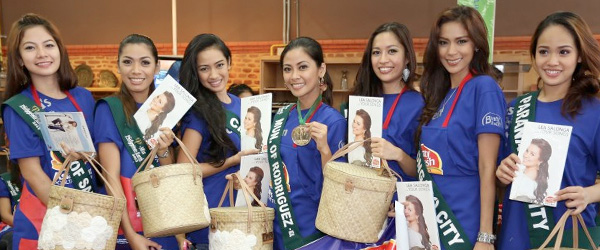 The Miss Philippines Earth 2012 candidates proved their culinary and budgeting skills at the Cooking Challenge held at SM Fairview April 24, 2012 hosted by MPE 2011 reigning queens, Athena Imperial and Denisse Torribio. The emerging grand winner of 8 groups is Group 7 composed of (candidates in blue center L-R) Reveleen Carandang (Kawit Cavite), Janica Burasca (Cebu), Abbygale Rey (Makati City), Lara Leones (Cainta), Alvy Faith Pel-ey (Ifugao Province) and Mary Joyce Cruz from the (Municipality of Rodriguez) awarded by Bounty Fresh judges (L-R), Billybert Sy (Marketing), Rachelle Payumo (Marketing), Kath Gomez (Asst. Brand Manager), Bong Talavera (Sr. Trade Marketing Specialist), Adrian Justiniano (Trade Marketing Manager), Marmee C. Vela (RTD Coordinator) and Marven Diego (Sr. Trade Marketing Specialist).
As part of their green act the Miss Philippines Earth 2012 candidates paid a visit to the Nayon ng Kabataan home for orphaned and abused children at Mandaluyong on April 24, 2012 for a tree planting activity together with Head Social Worker, Mrs. Asuncion Flores. The candidates and reigning MPE 2011, Athena Imperial and Muriel Orais distributed goods and delighted the children with storytelling activities to increase their awareness on the value of geothermal energy.
In celebration of Earth Day, April 22, Miss Earth Fondation Inc. joined Makati City in leading the environmental activities starting with the "Tigil Buga" parade also joined by the USAID-CEnergy, Environment of Natural Resources (DENR), Earth Day Network Philippines Inc. (EDNPI), Ayala Land Inc, Ayala Land Foundation and other participating stakeholders of the government and private sector. The Miss Philippines Earth 2012 candidates fronted the march of 3 groups headed toward the streets around the Ayala Triangle where they encourage motorists to turn off their engines for one minute to promote a healthy and sustainable environment.
Department of Energy (DOE) Secretary, Jose Rene D. Almendras welcomed the Miss Philippines Earth (MPE) 2012 candidates during their courtesy call at the DOE office yesterday morning, April 23, 2012. In keeping with their pre-pageant environmental activities to promote the international year of sustainable energy, reigning Miss Philippines Earth 2012 queen, Athena Imperial represented the pageant in expressing MPE's support for DOE projects which are directed towards renewable energy.
The Miss Philippines 2012 beauties strutted on the catwalk of SM Megamall, April 23, 2012 and proved that they can be environmental smart and fashion smart at the same time. Each candidate outdid one another with a summer outfit of their choice for the Styling Challenge and flaunted SM Accessories and PARISIAN Shoes and Bags on black dresses draped on them for the Catwalk Challenge. Awardees of the Styling Challenge (above) are: third placer Miss Bacolod City, Dianne Dreyfus; first placer, Stephany Stefanowitz from Queson City and second placer, Thoreen Halvorsen of Puerto Princesa. Catwalk challenge winners (below) are: third placer, Samantha Purvor of San Juan City, Stephany Stepahnowitz of Quezon City taking first place once more while Zandra Flores from the Mun. of Manaoag, Pangasinan came in at second place. The Miss Philippines Earth 2012 venue partner, SM Food Group shall continue to host the pageant's remaining challenges in the coming weeks at SM Malls.
This year, a series of challenges awaits the aspirants of the most relevant pageant in the country: Miss Philippines Earth 2012!

This year's candidates will battle it out in various challenges that will test their endurance, creativity, skills in make-up and cooking, talent, beauty, how well they walk in the runway and even their knowledge of environment and energy related issues. The special awards for Best in Talent, Miss Photogenic, Best in Evening Gown, Best in Cultural Costume, Best in Swimsuit and Miss Congeniality will still be awarded to the deserving ladies.

Join us for these challenges in selected SM Malls in Metro Manila!

SCHEDULE OF MISS PHILIPPINES EARTH

April 9 - Personality Development Seminar and Food Festival

April 10 - Environmental Seminar
Undersecretary Jay Layug – Department of Energy
Francis Dela Cruz – Public Campaigns Coordinator Greenpeace Southeast Asia
Reina Garcia – Institute for Climate and Sustainable Cities
Mia Bunao – Firefly Brigade

April 11 - Press Presentation (10 AM, Music Hall, SM Mall of Asia)

April 12 - My Own Bag Campaign (1PM, Savemore, Hypermarket and SM Supermarket at SM North, SM The Block and SM North Annex) Budgeting/Grocery Challenge (2PM) Trivia Challenge (4PM)

April 13 - Media Guesting

April 14 - My Own Bag Campaign (1PM, SM Southmall)
Styling Challenge with SM Accessories (2PM, SM Southmall)

April 15 - Critical Mass Ride with Firefly Brigade (6:00 am, Tiendesitas)

April 16 - Courtesy Call to DENR Sec. Ramon J. Paje
Courtesy Call and Tree Planting with PNP Chief Police Director Nicanor A Bartolome

April 18 - My Own Bag Campaign and Make-up Challenge at SM Makati

April 19 - Coastal Clean-up (6:30 am, Las Pinas)
Pinoy Games (9:00 am, SM MOA Music Hall)

April 21 - My Own Bag Campaign (1:00 pm, SM MOA)
Mall Show and Environmental Fair (4:00 pm, SM MOA)

April 22 - Nat Geo Run (4:00 am, Bonifacio Global City)
Tigil Buga and Earth Day Celebration (6:00 am, Makati City)
Earth Day Celebration (7:00 am, Marikina City)
Earth Day Celebration (9:30 am, CCP)
Storytelling with Haribon (3:00 pm, CCP)
Eco-Fashion Show with Greenpeace (3:00 pm, CCP)
My Own Bag Campaign (5:30 pm, SM Manila)
Green Film Festival (7:00 pm, SM Manila)

April 23 - My Own Bag Campaign (1:00 pm, SM Megamall)
Catwalk and Styling Challenges (2:30 pm)
Mall Show (4:30 pm)

April 24 - Charity Day at Nayon ng Kabataan (9:00 am)
My Own Bag Campaign (1:00 pm, SM Fairview)
Cooking Challenge (2:30 pm)

April 25 - My Own Bag Campaign (1:00 pm, SM Mall of Asia)
Lil' Earth Angels 2012 (2:30 pm)

April 27 - ICSC-E-Jeepney - Environmental Tour on Electric Vehicles

April 23 - My Own Bag Campaign (1:00 pm, SM Dasmarinas)
Mall Show/Singing Challenge (2:30 pm)

April 29 - Forbes Park- Earth Run (4:00 am)

May 2 - Geothermal Power Plant Tour (Laguna)

May 5 - Swimsuit Competition (7:00 pm, Golden Sunset Resort & Spa, Calatagan)

May 6 - Flores de Mayo (4:00 pm, SM Mall of Asia)

May 8 - Cultural Costume Competition (8:00 pm, Calapan City)

May 10 - May 10 – Opening of SM Hypermarket Monumento (11:00 am)
Creamsilk Ambush Makeover Challenge (4:00pm, SM MOA, Music Hall)

May 11 - Resorts Wear Competition (7:00 pm, Pontefino Hotel & Residences, Batangas)

May 12 - Tiaong Lubid-Lubid Festival Grand Sagalahan (4:00pm, Quezon)

May 15 - Evening Gown Competition (7:00pm, Puerto Princesa)

May 17: Creamsilk Challenge (5:00 pm, SM Megamall)

May 18 - Selecta Red Chiller Bar Launch (4:00 pm, SM Megamall)

May 19 - Sportsfest/Resorts Wear (10:00 am, Hamilo Coast)

May 20 - La Flora de Mayo (3:00 pm, Resorts World Manila)

May 21 - Talent Competition (7:00 pm, Versailles, Alabang)

May 22- Philippine Fashion Week (SM Mall of Asia)

May 27 - Grand Coronation Night (7:00 pm, SM Centerstage , SM Mall of Asia)

They shall also visit a geothermal plant in Laguna, a factory of electric vehicles and other communities promoting sustainable energy as part of this year's celebration of sustainable energy for all.

Also watch out for our lovely candidates in Calatagan , Nasugbu & Batangas City, Batangas, Tiaong & Catanauan, Quezon, Calapan, Oriental Mindoro and at the home of the newly hailed New 7 Wonders of Nature, Puerto Prinsesa City, Palawan!

Truly a beauty pageant for a cause to look forward to! Suport your candidates now until the grand coronation night on May 27, 2012 at the SM Mall of Asia Center Stage. Telecast on ABS-CBN Channel 2.
LiveBlog: Miss Philippines-Earth Winners (Results)
Get regular updates straight from your Facebook and Twitter accounts with The Blog of Innocence: SilentVoice Points.
Make sure that
you keep
informed about the latest happenings around you. Be a fan of
VoicePoints page on Facebook
. Join the online conversation of the people behind your history. Follow and get some tweet updates from
@voicepoints on Twitter
. Discuss and be a part of this changing world.
We

believe in

your voice. We believe in you. Shout! Speak your mind! Join now! You have the right. You have the freedom!
The Blog of Innocence: SilentVoice Points is accepting works and articles - news on our nation and the world, social issues, environment, advocacy, entertainment, trending issues and events, history, literature, reviews, travel,

science and technology

and

discoveries

. We reserve the right to edit and not to publish articles for reasons of libel and ethics. To submit, email us at silentvoicepoints@yahoo.com.

Share

your own stories now!