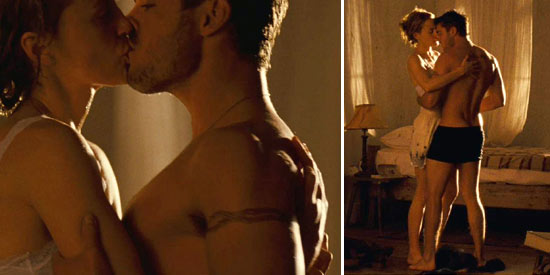 Zac Efron and Taylor Schilling, stars of Warner Bros.' new romantic drama The Lucky One discuss their sizzing love scenes, among other things, in the big-screen adaptation of the Nicholas Sparks bestseller.
In the film, U.S. Marine Sergeant Logan Thibault (Efron) returns from his third tour of duty in Iraq, with the one thing he credits with keeping him alive—a photograph he found of a woman he doesn't even know. Discovering her name is Beth (Schilling) and where she lives, he shows up at her door, and ends up taking a job at her family-run local kennel. Despite her initial mistrust and the complications in her life, a romance develops between them, giving Logan hope that Beth could be much more than his good luck charm.
Q: Taylor, can you talk about the love story aspect of the film. Was it more challenging to play the emotional aspects or the physical aspects of the love scenes, which I imagine were carefully choreographed?
Taylor Schilling: Well, for me they're completely different. And I would say, I spent a little bit more time in preparation for her emotional journey and the experiences that Beth was having with Logan and how that was relating to the rest of her life.
It's interesting. It really did take more space for me to kind of uncover where she was coming from and where she was going and how this man was opening her up to true love finally after being so guarded for so long and having given up. The love scenes were a really natural outgrowth of where she was at that point in her story. And the physicality of it was pretty simple. Zac and I were really close at that point. We'd been working together and I really trusted him. And he's a class act. So, it was really fun and comfortable.
Zac Efron: Yeah, it was. I mean, in the scene, they are out of practice. And they're totally in love and having fun and sort of doing it again for the first time. And I think that was easy to do. That's sort of how we were in the moment anyway. So, a lot of that fit.
Q: There's a scene where you say, 'You deserve to be kissed every day.' How easy is it to embrace the romantic genre?
Schilling: I think that, as a woman, those are pretty amazing words to hear.
Efron: Yeah, I'm amazed sometimes at the things that I say that in the moment that just sound great. And then if you put those on paper, they would probably be the cheesiest things in the entire world. In the moment, that's love. Everything's sort of heightened.
Q: Zac, what scene was the most difficult for you as an actor?

Efron: I think the hardest scenes stuff to film, by far, were all the scenes in Afghanistan at the very beginning. Just wearing that equipment, all the tactical stuff, and clearing that room was really challenging. And it was the middle of the night. It was like 3:00 in the morning. It was freezing. There was rubble everywhere, people screaming. Really, really talented actors all around us, and I was controlling a whole unit of Marines, real Marines. And my stress was through the roof. I really wanted this part to be authentic. So, that was the hardest part for me.
Q: Taylor, can you talk about what it's like for your character to live up to expectations that Logan has from carrying Beth's picture around all this time? You want her feet on the ground.

Schilling: Absolutely. Well, there was so much freedom in the fact that Beth had no idea that she was this angel to Logan. So, as an actor and as a character, I was totally freed from trying to be a perfect woman for him, or some kind of an angel. In fact, I think she was probably veering to the other edge of that, of making it more difficult for him, because she was feeling so guarded. Yet that would be paralyzing, I think. I probably wouldn't respond well to that.
Q: Does it help you create a character when you've got a book? I mean, certainly in this case you've got Nicholas Sparks' original novel as well as the script. Do you go to them or do you make the script your universe?

Efron: I think it's somewhere in between. There are specific moments that come out of the book and out of the writing that are really an examination into a character's thought process and what's going on that are very fun to read, and offer all kinds of different explanations and little things that you can think about during the scene. But, also, you have to look in the context of the script. You can't have all kinds of wild other things coming in.

Schilling: Yeah, I agree with that. I think for me it's a little bit more based on the script and just what's happening and gathering all the information you can, and then kind of letting it go and just being present with another actor. That seems to be right now what works for me.
Q: When you're portraying such a pure love story like this, do you just get carried away with the ideal of true love finding a way, or do you feel a responsibility to ground it in reality?

Schilling: Well, I hope that people can relate to it a little bit, or at least maybe that no matter what has been going on in their life or what their relationship is like or where they feel they are, that there is that potential for true love or romance available, no matter where you are in your life or what's happened.


Opening across the Philippines on Thursday, April 19, The Lucky One is distributed by Warner Bros. Pictures, a Warner Bros. Entertainment Company.
Pinoy brand taps Zac Efron as endorser
The war of the billboards continues, as bigger and better endorsers are coming in to endorse local retail brands. Gone are the days when a local celebrity would be enough to cause a stir among the masses. Now, people wait with bated breath to see the next big international star gracing the stretch of Edsa. Penshoppe has already brought us Thai cutie Mario Maurer and Gossip Girl's bad boy Ed Westwick. So, topping that would have to be with an A-List star.

Zac Efron has never done an endorsement, so this partnership with Penshoppe is a first for him. So what made him decide to say yes? " I got to know the history of the brand and I like how it's an original Pinoy brand," he says. " We have this good family friends who are Filipino and they urged me to say yes. They said it was the top brand in the Philippines, "he adds. In fact, Efron's father has been to the country several times. " I've heard stories and seen pictures so I can't wait to see it all myself," says Zac, whose knowledge of Pinoy things is quite impressive. He has eaten and cooked chicken adobo, likes halo-halo, and mentioned "that purple stuff" (ube) as something he thought was really good. "The fact that he chose a 100% Filipino brand is something all Filipinos can be proud of," says Berni Liu, Golden ABC's head honcho. "We are a 100% Filipino brand that is going international. A great way to start is when our clothes are proudly worn by global superstars."

Efron's claim to fame started with the teen hit movie High School Musical, but unlike many young actors who completely disappear after their brush with fame, he has continuously been challenging himself by carefully choosing roles that will take him to the next level of his career. He recently voiced a thirteen-year- old character in the movie version of Dr. Seuss' The Lorax and his next movie The Lucky One shows a more mature side of him. "I think that's what happens when you are doing what you love-you raise the bar and continue to challenge yourself," he quips. He hopes to visit the country sometime this year. "I've heard so much about the place," he says. "The food, the beaches. I can't wait to visit."
Get regular updates straight from your Facebook and Twitter accounts with The Blog of Innocence: SilentVoice Points.
Make sure that you keep informed about the latest happenings around you. Be a fan of
VoicePoints page on Facebook
. Join the online conversation of the people behind your history. Follow and get some tweet updates from
@voicepoints on Twitter
. Discuss and be a part of this changing world.
We believe in your voice. We believe in you. Shout! Speak your mind! Join now! You have the right. You have the freedom!