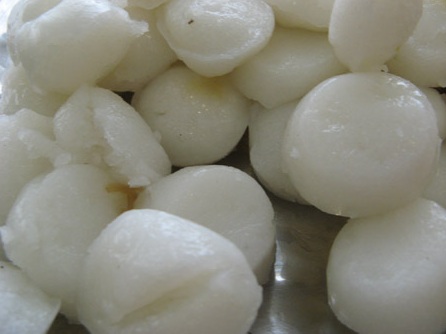 What do you associate puto with? When pork was still part of my diet, I associated puto with diniguan. I dunk the puto on the thick sauce, then eat it together with the pork pieces. Another puto memory is pairing it with hot chocolate drink. Puto is a great pairing food with many of our Filipino dishes. Puto is very easy to make. You can even use all-purpose flour instead of rice flour if one cannot find the latter. In this recipe, we will use all-purpose flour
Ingredients
2 cups all-purpose flour (or better yet rice flour)
4 teaspoons baking powder
1/4 teaspoon salt
3/4 cup sugar
2 cups thick coconut cream (the first press. See How to Extract Coconut Cream or you can use coconut powder and follow instructions to make thick cream)
1 teaspoon aniseed
Directions
1. Mix all the dry ingredients in a mixing bowl.
2. Add coconut cream to the dry ingredients. Mix until smooth.
3. Add Aniseed
4. Pour into banana-lined muffin tins.
5. Steam for 15 to 20 minutes.
Source: pinoyfoodblogrecipes
More Lasang Pinoy recipes here.
Get regular updates straight from your Facebook and Twitter accounts with The Blog of Innocence: SilentVoice Points.
Make sure that you keep informed about the latest happenings around you. Be a fan of
VoicePoints page on Facebook
. Join the online conversation of the people behind your history. Follow and get some tweet updates from
@voicepoints on Twitter
. Discuss and be a part of this changing world.
We believe in your voice. We believe in you. Shout! Speak your mind! Join now! You have the right. You have the freedom!