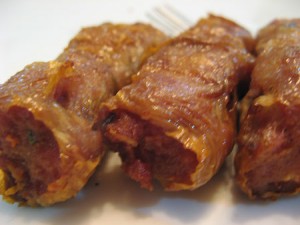 Chinese Five Spice (Ngo Yong)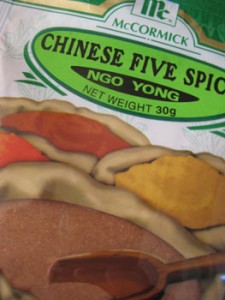 Anyway, I was craving for Ngohiong so much that my classmate taught me the basic recipe. I am sure you will just love it as much. You can adjust the proportions to suit your taste.
I have divided the recipe into three parts: the filling, the corn starch batter and lastly the ngohiong sauce. If you can't find 5-spice powder at the grocery, I have also included the recipe below. The 5-spice powder will prove to be useful for other chinese dishes like siomai so it's good to make a batch. It's worth it.
Filling:
Ready made lumpia wrapper (get large size) or you can also use tofu wraps (called tau-pe)
1 kilo ubod, cut in strips
1/4 cup singkamas, cut in strips
3 tbsp ngohiong powder
1 teaspoon garlic
1 onion, minced
1 tbsp 5-spice powder (see recipe below if you can't find 5 spice powder in the grocery or disregard this and just add 1 more tablespoon ngohiong powder to the filling ingredients)
5 stalks green onions, chopped
1/2 kilo ground pork or you may want to subsitute with shrimps if you are vegetarian
salt, pepper, and soy sauce to your discretion

1.Saute garlic and onions
2, Add pork and a little salt.
3, Add 1 cup water to cook the pork
4. When pork is cooked, add the shredded ubod and singkamas and mix all together. Season with ngoyong powder.
Test a small portion in a frying pan to make sure you have the right taste.
5. After you are satisfied with the taste, stuff filling into a large lumpia wrapper.
6. Dip roll in batter (recipe below) before frying in a wok.
7. When fried, cut the ngohiong in desired serving pieces. I usually cut into three portions.


Corn starch Batter:
2 cups cornstarch
3 tsp paprika
1 teaspoon white pepper
1 1/2 cup water


Ngohiong sauce:
2 tbsp soy sauce
2 tbsp brown sugar
1/4 tsp ngohiong powder
5 tbsp water
1/2 tsp corn flour
Little salt
1 egg white, lightly beaten


1. Mix all sauce ingredients in a small saucepan.
2. Simmer to gentle boil for 2 minutes.
3. Stir every so often until sauce turns smooth.
4. Add the blended egg white. Stir gently with a fork to create fine strands. Cool.


If you can't find Five spice powder:
Make your own Chinese Five spice powder seasoning mix using either ground or whole spices.


Ingredients:
1 tsp. ground Szechwan pepper
1 tsp. ground star anise
1-1/4 tsp. ground fennel seeds (replace with coriander if you can't find fennel seeds)
1/2 tsp. ground cloves
1/2 tsp. ground cinnamon
1/2 tsp. salt
1/4 tsp. ground white pepper
Grind each ingredient separately in a spice mill or mortar. Combine and mix well. Store in an airtight container in a cool, dark place.
Ngohiong can be frozen and then fried when needed.
Source: pinoyfoodblogrecipes
More Lasang Pinoy recipes here.
Get regular updates straight from your Facebook and Twitter accounts with The Blog of Innocence: SilentVoice Points.
Make sure that you keep informed about the latest happenings around you. Be a fan of
VoicePoints page on Facebook
. Join the online conversation of the people behind your history. Follow and get some tweet updates from
@voicepoints on Twitter
. Discuss and be a part of this changing world.
We believe in your voice. We believe in you. Shout! Speak your mind! Join now! You have the right. You have the freedom!