Take a look at the Juicy Pork Chop Inihaw and Smoked Lumpiang Shanghai recipes.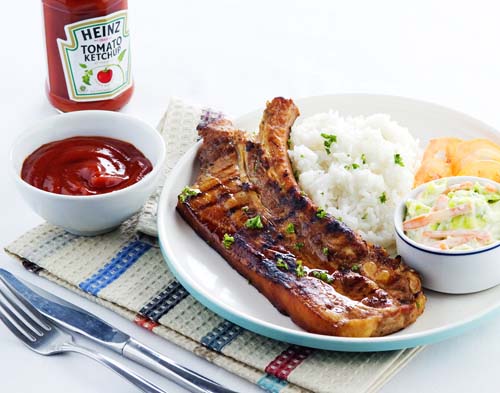 Juicy Pork Chop Inihaw
Preparation time: 1 hour; Cooking time:15 minutes; Serves: 5
Ingredients
5 pcs pork chop
1 Tbsp garlic, crushed
1/2 tsp whole black peppercorn, crushed
1 Tbsp brown sugar
5 Tbsp Lea & Perrins Worcestershire Sauce
10 Tbsp Heinz Tomato Ketchup
10 Tbsp pineapple Juice
1/2 tsp salt
Procedure
1. Marinate pork chops in garlic, crushed black pepper corn, brown sugar, Lea & Perrins Worcestershire Sauce, Heinz Tomato Ketchup, pineapple juice and salt for an hour in the refrigerator.
2. Charbroil till done. Serve with freshly cooked garlic rice and Heinz Tomato Ketchup.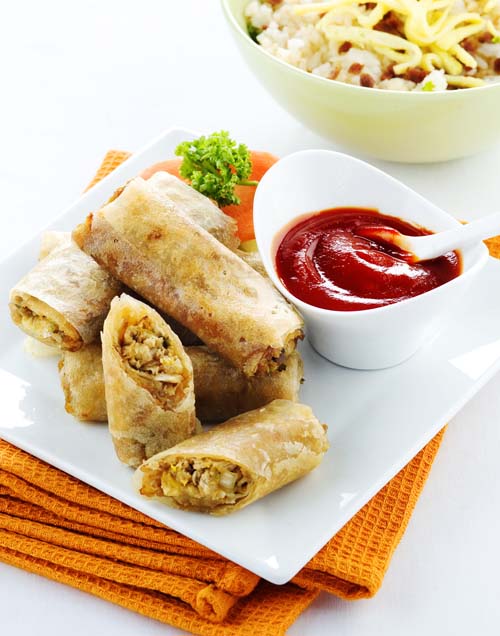 Smoked Lumpiang Shanghai
This is so good with the flavors of smoked bangus and wansoy.
Preparation time: 30 minutes; Cooking time: 30 minutes; Serves: 4-6
Ingredients
2 pcs tinapang bangus, finely shredded
2 medium-sized onions chopped finely
2 Tbsp Lea & Perrins Worcestershire Sauce
1 small bar quick melt cheese, cut into small cubes
1 bunch wansoy, finely chopped
1 pc mango, half-ripe, finely diced
salt and freshly ground black pepper to taste
lumpia wrappers
1 egg white
Procedure
1. Mix first 6 ingredients in a bowl.
2. Place a few tablespoons of mixture into lumpia wrappers and roll.
3. Use egg white as glue for wrapper ends when rolling.
4. Deep fry till golden brown.
Serve with Heinz Tomato Ketchup.
Source: pinoyfoodblogrecipes
More Lasang Pinoy recipes here.
Get regular updates straight from your Facebook and Twitter accounts with The Blog of Innocence: SilentVoice Points.
Make sure that you keep informed about the latest happenings around you. Be a fan of
VoicePoints page on Facebook
. Join the online conversation of the people behind your history. Follow and get some tweet updates from
@voicepoints on Twitter
. Discuss and be a part of this changing world.
We believe in your voice. We believe in you. Shout! Speak your mind! Join now! You have the right. You have the freedom!