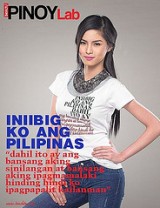 There is no better time to be proud of our heritage than now. Our Filipino craftsmanship has received accolades worldwide, Filipino artists and athletes are gaining their much-deserved recognition, and our eclectic designers-cum-entrepreneurs have turned the world's spotlight on to Philippine fashion design. Just mention the influential Mich Dulce, Rafe Totengco, Bea Valdes, and Monique Lhuillier and you're sure to receive a nod of approval and admiration.
Understandably, even our Filipino pride has translated into casual, everyday clothing. For us who wish to get a piece of the pie without wanting to shell out big bucks, a simple trip to the nearby mall offers a lot of choices. We can wear our pride on our sleeves (or chest, for that matter) simply by purchasing a shirt and spreading nationalism everywhere we go.
Collezione C2
The birth of the word Fashionalism was coined by combining fashion + nationalism. The term is attributed to Rhett Eala who created a collection of collared shirts and polos for the brand Collezione C2 in 2006, strategically using the Philippine archipelago for its main design. According to
Eala
, "This is to infuse nationalism into fashion, making the veneration of national icons hip, fun, and urbanized."
MyPhilippines Lifestyle, Inc.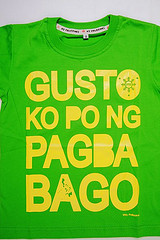 In 2003, Brian Dy starting his clothing company aptly named
MyPhilippines Lifestyle, Inc.
with a simple vision: for everyone, especially the youth, to wear nationalism on their sleeves. They started as an outright supplier of SM's Philippine Crafts Department (now known as Kultura) and has now grown into the top Pinoy Lifestyle brand in the county today in terms of market scope, shirts sold, and customer base.
Dy pioneered "Pinoy lifestyle shirts" that went beyond simple souvenir designs like tourist locations. He said the company's lifestyle shirts were meant to depict Filipino culture and inspire patriotic feelings for both wearers and onlookers. "It's like a walking billboard. People see what you wear. It's a direct message to yourself and to the people who see these shirts. It's a reminder for everyone," Dy said in a
Newsbreak
interview.
Dy's shirts have notable slogans such as: "Lalaban Ako Para Sa Bayan Ko (I will fight for my country)", "Gagamutin Ko Ang Sakit Ng Ating Bansa (I will heal the sickness of this country)," and "Gusto Ko Po Ng Pagbabago (I want change)" in bright bold letters.
"We wanted to target nationalism on a more personal level. Meaning, we made shirts specifically for different fields of society. There are shirts for students, mothers, activists, doctors, athletes – anyone who wants to change the country and anyone we can be proud of," Dy said
Team Manila
Also flying off the shelves were trendy shirts bearing the face of the country's national hero, Jose Rizal.
Mon Punzalan
, founder of Team Manila, said: "We made a design where Jose Rizal is wearing aviator shades because he represents the modern Filipino. The sunglass-wearing Rizal is an icon now."
balut
and
isaw
into what we consider now as cool and fashionable. Their wares are much sought after by students, yuppies, balikbayans, and even prominent fashionistas such as Tim Yap and Daphne Osena-Paez. Team Manila not only offers shirts for the young and old (they recently released shirts for kids), but a whole lifestyle based on the concept. They created pillows, bean bags, wristlets, lanyards, belts, button pins even wall clocks.
Bench PinoyLab
Signs of Patriotic Times?
It seems Filipinos cannot get enough of nationalistic yet fashionable items. The recent death of the rapping icon Francis Magalona further contributed to the growth of fashionalism. Magalona had launched his clothing brand
"3 Stars & a Sun
" at around the same time that Eala launched My Pilipinas.
Former President Cory's passing was no different. A bevy of yellow ribbons as well as yellow shirts with her face printed on them were also available during her wake and burial. Some famous shirt brands also jumped on the bandwagon, creating shirts with a yellow ribbon beside the Philippine archipelago.
Some might say that the "I am Ninoy Campaign," launched in 2008 to commemorate the 25th death anniversary of Sen. Ninoy Aquino, started it all. However, according to
Prof. Schedar Jocson
from the University of the Philippines College of Arts and Letters, "The trend of putting national symbols in merchandises started way before. Mugs, fans, baseball caps, and t-shirts with the Philippine map and other national symbols used to be sold only in pasalubong stalls," says Jocson. "Fashionalism, as we know it now only started during the celebration of Jose Rizal's 100th death anniversary when there was a really massive number of items with JR's face on them."
The trend also spurted more during the centennial celebration of the Philippine's freedom and People Power I. Jocson adds, "It was then that the Philippine map and flag can be found in t-shirts of politicians and other celebrities. Soon after, Ninoy Aquino's face took its turn to be the uso. With this, we can say that fashionalism started during the Ramos regime."
Most argue that these fashionable and nationalistic items have been beneficial as they help educate the youth by helping them understand as well as appreciate our history and culture. However, some also point out that these national figures are merely portrayed as hip and cool designs of the season rather than pure symbols of being Filipinos since most products are targeted towards the younger generation, most of whom are not fully aware of the icon's history.
Others believe that real nationalism is dependent on one's contributory actions to society. There is not much need to wear baller bands or show off the latest duds with the Philippine map emblazoned on them. As
Branded Nationalism
states, responsive action should take precedence over the clothes we wear and not vice versa.
Reference: Branded Nationalism
Bench photos from Popsicles.ph. Other screencaps taken from their respective websites. For illustrative purposes only.
----------------------------------------------------------------------------------
All eyes are on the spring and summer collections of 2011 as we usher in the new year. But who stood out in the shows last October? These designers rose above the fray that was unavoidably festooned with undying floral prints and cheery hues. They had vision and the passion to make it real. Check them out!
Lito Perez
may seem to have banked on the patriotism trend of 2010, but he did it with such undeniable flair. Thumbing his nose at the predictable map-and-flag branding that most retail brands have overdone, Perez worked with Filipino-colonial-and-revolutionary-period-inspired prints, silhouettes and colors tailored to his vision. He played mostly with black and brown details against a white-dominated canvas, showcasing vintage illustrations of Filipinos and architecture of the aforementioned time. "Noli Me Tangere" is emblazoned on a white tank top, the title of national hero Jose Rizal's first novel and a statement in itself. Though Perez featured many pieces reminiscent of the period's style such as the
baro't saya
, most of his clothes are modernized and highly-stylized versions that are wearable. There's something in it for everyone, be it the dramatic, modern
terno
, the stylish asymmetrical tops, statement polo shirts or the crisp, formal suits.
Bandoix Flores
seems to relish it. Like Perez, Flores chose to look back and work with historical details and a classic palette, but with a definite regal spin to it. His 50s-inspired silhouettes are given a multicultural Filipino flair, with a touch of Chinese and Spanish influence thrown in. Details such as a black
abaniko
, embroidered veils, damask designs, and the
panuelo
give the collection a rich backdrop to timeless designs.
Albert Andrada
owes part of the success of his show, entitled
Kohinoor
, to its elaborate styling. The silvery make-up, heavily-kohled eyes, glittering headpieces and globes of hair complemented the East Asian influences apparent in Andrada's collection. But more than the bling (and mounds of synthetic goat hair), his collection impressed its audience with show-stopping structures and swathes of fabric in silver, white and gold that merged a decidedly futuristic streak with exotic Indian aesthetics. Though this collection may have been more appropriate to showcase during the holiday season, it has certainly caught our attention and approval.
Kermit Tesoro
show if it didn't have industrial pieces and dangerously high heels mixed in with the designer's signature avant-garde creations, and he certainly did not disappoint. For this summer, Tesoro showcased a collection whose pieces clung tightly to the body, and shaped as if an insect's skeleton was turned inside-out with flashes of royal blue, cyan and mustard against nude and black, to keep the details even more riveting. Woven rattan pieces were strewn into the equation, complementing the skeletal shapes of the design.
Dave Ocampo
showcased polished and sophisticated suits as well as various incarnations of the gray pinstripe. Sleek blazers and trousers lent to business-elegance, yet those tailored for women had a playful spin to them in the cut, length and pops of color. We especially loved the grainy charcoal pants on the long-legged women who all made a sexy, powerful and arresting sight.
Noel Crisostomo
knew how to exude spring and summer cool for his collection this season. His perfect white concoctions practically scream fresh, while his breezy floral frocks in leaf green, sunny yellow and playful pink keep it young. The master of clean, simple lines and silhouettes kept the styling to a minimum, and thus achieved great effect: the focus remained on the simple silhouettes, with models that look bright-eyed and ready for summer.
Ronaldo Arnaldo
wisely stayed with simple, clean and excellent tailoring for his Spring/Summer collection. His silhouettes are once again an ode to the tailored classics that are chic and functional but with a definitely modern flair.
Chris Diaz
does feminine and romantic best, but this time around he showed us how cheeky he can also get. With a touch of retro styling, bursts of spring colors and some animal print thrown into the mix, we can't help but love the dainty dresses, chic resort wear and the lovely gowns.
Photos by Simon Vistro. Some rights reserved.
----------------------------------------------------------------------------------
These articles are reposted from

Rizaliana Media of MYRizal150.