How did the the Filipinos around the world celebrate the 150th Birth Anniversary of Jose Rizal
President Aquino's speech on the 150th birth anniversary of Jose Rizal, June 19, 2011
Click the photo for the speech
World's tallest Jose Rizal monument inaugurated
Click the image for more photos

PhilPost issues commemorative Rizal stamps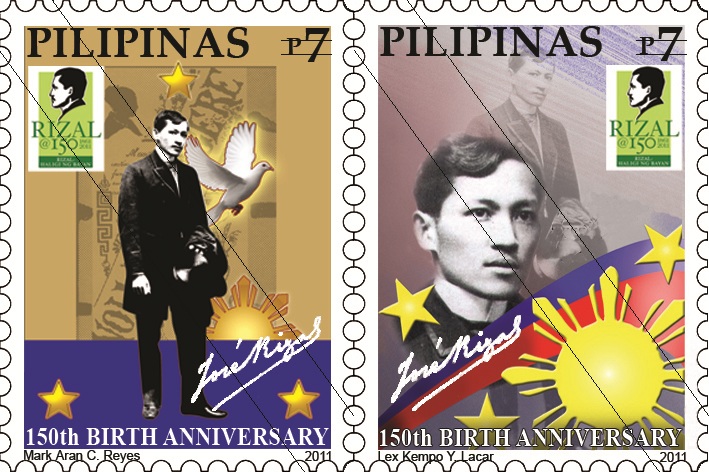 The Jose Rizal@150 stamps were classified as "commemorative," with a denomination of P7 and a quantity of 70,000 pieces each for two se-tenant pairs.

A souvenir sheet with a P150 denomination and a quantity of 6,000 pieces is also available.
Vibal Foundation launches interactive Rizaliana e-books
In celebration of Jose Rizal's 150th year, Vibal Foundation launched interactive Rizaliana e-books for the iPad in June.

Featured are The Tortoise and The Monkey and Noli Me Tangere.
Vitual Tour
This article uses virtual reality technology to provide an immersive experience. Click the images to view the 360-degree VRs. Adobe Flash 10 or higher is required. Average VR size is 1.6Mb each. Credits to virtualjournals.net.
The nation marks the 150th Birth Anniversary of our National Hero Dr. Jose Rizal on June 19, 2011.
President Benigno Aquino leads the ceremonies at Rizal's place of birth in Calamba, Laguna by laying a wreath at the Rizal Shrine; then proceeded to unveil the tallest Rizal monument at 22 feet in height at the new Calamba City Capitol.
At Luneta, leading the celebration was Executive Secretary Paquito Ochoa as Guest of Honor, with Manila Mayor Alfredo Lim, Tourism Secretary Alberto Lim, Education Secretary Armin Luistro, NPDC Executive Director Juliet Villegas, other government officials and the descendants of Rizal in attendance.
The activities started with the Department of Education's "Takbo ni Pepe" – a fun run for Rizal participated by students and teachers. Flag raising ceremony started at 8 o'clock, followed by wreath-laying and a 21-gun salute to the National Hero.
Two giant cakes were made for Jose Rizal's birthday; the "An Ode to a Patriot" cake was designed by the Magsaysay Center for Hospitality and Culinary Arts (MIHCA) and it features the books Noli Me Tangere and El Filibusterismo, two of Rizal's famous works. Goldilocks Bakeshop made their cake a replica of the Rizal Monument with colorful cupcakes that lined the cake's base.
Rain was pouring during the Luneta celebrations and throughout the day, but this did not stop the general public, estimated at over 200,000 in paying their respects to the nation's hero. Roses of red, white and pink surround the concrete pavement of Rizal's monument as people from all walks of life took the opportunity to offered flowers and to come close to the restricted area, open to the public for the first time, that is usually reserved for government officials, dignitaries, and VIPs.
The National Library also put to rare public displays the original manuscripts Noli Me Tangere and El Filibusterismo as well as other Rizaliana articles.
Gloc-9 feat. Jaq Dionisio of KissJane - "Kung Tama Siya"
Sandwich - "Mi Ultimo Amor"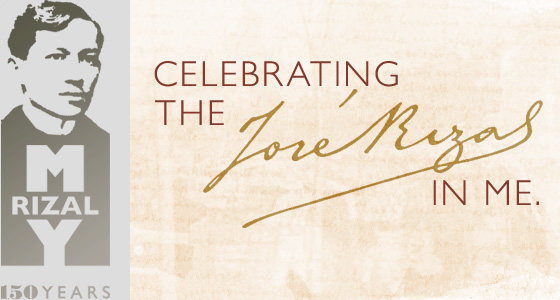 My Rizal Theme
Sino ka ba Jose Rizal?
-----------------------------------------------------
The rains did not dampen the celebratory mood of Filipinos across the country who wanted to partake in the 150th birthday of the country's national hero, Dr. Jose Rizal.
Thousands of students and other residents trooped to Rizal Park in Manila, making it the biggest celebration yet in the entire country.
The National Parks Development Committee said some 250,000 were in attendance. Officials did not expect the number because of the rains and the threat of terror.
Meanwhile, 2 giant cakes were also dedicated for the national hero.
Executive Secretary Paquito Ochoa and Manila Mayor Alfredo Lim lead the ceremonial cutting of a giant cake commemorating the 150th birth anniversary of National Hero, Dr. Jose Rizal, at the Rizal Park on Sunday. Photo by Vincent Go for ABS-CBN
Attendees include the descendants of Rizal. Robert Tan, Rizal's great grandchild, said: "He is still relevant, gusto kasi ng pagbabago."
The descendants will also have a reunion at the Fort Santiago this evening. This will be open to the public.
The fireworks display scheduled for tonight was cancelled because of the weather. Organizers said, however, that the concert and musical fountain presentation will continue.
Meanwhile, at the Pamantasang ng Lungson ng Maynila, officials and students unveiled a monument of the late National Hero.
Members of the Rizal clan, with representatives from the National Historical Commission of the Philippines and the President of PLM, offered flowers before the bust, which is raised on a pedestal, and flanking the entrance of the university.
Rizal statue
Some 1,500 students from different schools, government officials and other civilians in Daet, Camarines Norte laid flowers on the first ever built Rizal monument in the country.
The Knights of Rizal area commander said, however, the name of the statue "Daet Morga" should already be replaced. Morga refers to Antonio de Morga, who published the book Sucesos de las islas Filipinas.
This was used as basis for Rizal's Anotacion de sucesos de las islas Filipinas de Antonio Morga.
Meanwhile, Daet Mayor Tito Sarion wants tourists to visit the statue, which is part of the heritage trail created by the Department of Tourism.
In Pili, Camarines Sur, residents joined the Department of Education's (DepEd) fun run to commemorate Rizal.
The fun run was also staged to collect school supplies for poor students.
Another one was also staged in Davao City. Most of the participants were children who wanted to emulate Rizal.
A participant, Julibee Pepito, said: "Through his writing, napukaw and democracy sa ating bansa."
In Panabo City, members of the youth sector who joined in a fun run picked up garbage and placed in sacks.
A student, Mark Perez, said: "Gusto ko maging proud si Rizal sa akin. Tulad ng pamumulot ng basura. Sa simpleng paraan maipakita ko ang aking pagka-Pilipino."
In Maco, Compostela Valley, the celebrations also focused on the youth sector.
Some 80 poor children received school supplies and pairs of slippers from the Kiwanis International Golden Tagum and Youth for Peace and Development.
Fun runs
Separate funs runs were also staged elsewhere in different provinces.
Butuan City and Iloilo City participated in the fund-raising event.
Unlike in traditional fun run, there were no registration fees in Butuan City. The participants, however, have been asked to bring donations in kind or sign pledges of support to public schools.
According to DepEd, participants may choose to donate school supplies, classroom furniture, equipment like fax machine, computers, printers and electric fans.
The runners may also volunteer to become a resource person for a particular subject or be involved in tutorial assistance, peer counseling and teaching service.
In Santiago City, different cultural events were observed. Job seekers also took advantage of the job fair sponsored by the Department of Labor and Employment.
Bacolod City also remembered Rizal's 150th birthday. Mayor Evelio Leonardia led the wreath-laying as students, teachers, senior citizens and other stakeholders gathered at Rizal's statue on Araneta Street.
In his message, Leonardia said the national hero is to be emulated as he carried his bloodless revolution through educating the Filipinos.
The former commander of the order of the Knights of Rizal in Bacolod City, Atty. John Orola, gave the mayor the recognition by giving him the pin representing the seal of Rizal.
In Baguio, officials read the poems of Rizal in an event. Vice Mayor Daniel Fariñas read the "Sa Aking mga Kababata" while Mayor Mauricio Domogan read "Sa Kabataang Pilipino."
Students of the Baguio City National High School presented a play based on Rizal's anecdotes.
They also partook in huge cake for Rizal.
Meanwhile, in San Fernando City, an exhibit featuring old coins, bills stamps bearing the photo of Rizal has been held to celebrate the country's national hero's birthday.
Some of the coins featured were used in 1916. These were collections of San Fernando City Mayor Pablo Ortega.
The old stamps, meantime, were from Jose Protacio Dumuk's collections. Dumuk was named after the national hero because he was born on June 19, 1948.
In Vigan City, Knights of Rizal North Luzon spearheaded the celebration.
A short program featuring Rizal's life story and works followed after the flag raising ceremony.
Around 30 students from various public schools in Cagayan de Oro City, meanwhile, marked the day with their performance of kundiman and folk songs.
Militants
Left-leaning groups celebrated the 150th birthday of Rizal with protest actions as they blasted President Aquino.
Bagong Alyansang Makabayan-Timog Katagalugan criticized Aquino for "doing exactly far different from what Rizal did century ago."
"Instead of struggling for freedom, Aquino remained subservient to the imperialist ambitions of US among other imperialists," the group said.
Members of Kabataan Partylist, formerly known as Anak ng Bayan Party, in Southern Tagalog trooped to Halang, Calamba City, Laguna to join commemorative rites at Rizal Shrine.
Around 150 youths wore Rizal masks to symbolize what the progressive group deems as "bagong mukha ng paglaban."
Kabataan Partylist - Southern Tagalog chairperson John Paulo Bautista also hit Aquino's supposed inaction on the recent tuition hikes, failure to provide sufficient state subsidy on public education and proposal of exploitative education policies such as the K+12 basic education.
"If he were alive today, Rizal would have denounced Aquino's maltreatment of his youth bosses," Bautista said.
Bautista added that Aquino's promise of "daang matuwid" is not leading the youth to the right direction. "Instead of promoting nationalism, education policies such as K+12 only lead the youth out of the country where foreigners can exploit our skills."
In celebration of the 150th birthday of its most famous alumnus, the Ateneo de Manila University on Friday launched its commemoration of the sesquicentennial of Jose Rizal's birth.

The university launched "A Legacy of Service: Rizal for the 21st Century," a series of historical exhibits, academic lectures, and other events commemorating Rizal's 150th birthday, at the Leong Hall of the university's Loyola Heights campus.

In attendance were descendants of Rizal's siblings, in particular descendants of Saturnina, Narcisa, Lucia, Olympia, Maria, and Paciano.

The event served as a kick-off of the celebration of the sesquicentennial of Rizal's birth, with events scheduled until December.


Among the various memorabilia on display at Ateneo De Manila's exhibit
is a portrait of Josephine Bracken, the last woman in Jose Rizal's life
.
Photo from Ateneo's Facebook page
Two Rizal-related exhibits, focusing on his days in the Ateneo and his writings, were also opened during the event.

"Rizal in the Ateneo/The Ateneo in Rizal" is an exhibit of original artifacts associated with Rizal and his days at the Ateneo.

Among the artifacts on display are photographs of 19th century Ateneo, which was then located in Intramuros; a statuette of the Sacred Heart carved by Rizal in 1875 out of batikuling wood; a Card of Excellence awarded to Rizal; the seal of the Ateneo Municipal de Manila; and even a silver quill which he won in a literary contest in 1879.

The exhibit also shows photos and artifacts of Rizal from his days in Europe, as well as during his days in exile in Dapitan.

Also opened on Friday was "Rizal, The Literary Genius," an exhibit of select books by and about the National Hero, from the collection of the Ateneo's Rizal Library.

Among the books and writings on display are Rizal's iconic works, such as 19th century editions of Noli Me Tangere and El Filibusterismo; the "Mi Ultimo Adios"; letters and correspondence; and biographies, adaptations, and other works about Rizal.

Also on display are photographs of Rizal and his milieu, and a chronology of the life of the National Hero.
Both exhibits are housed at the Rizal Library of the university, and is open to the public Mondays to Saturdays.

Events


Aside from the exhibits, the Ateneo de Manila's different units also have other exhibits and events scheduled to commemorate Rizal's 150th birthday.

Among the events scheduled are lectures and a conference about Rizal; book launches; lectures and screenings on films about the National Hero; a revue of songs inspired by or composed by Rizal; a play by the Tanghalang Ateneo about Rizal and the youth; and a 2-hour cultural gala.

The university's grand alumni homecoming in December will also take a Rizal-inspired theme.


The Complete Jose Rizal
Filipiniana.net, the premiere digital library of the Philippines, will present The Complete Jose Rizal on 10 June 2011. This comprehensive compilation of Rizal's works will include his letters, novels, and essays. It will also feature valuable hard-to-find archival materials on his life and times, such as images and public domain biographies.
Fully accessible online at Filipiniana.net's Jose Rizal portal, the collection will prove a valuable resource for students and casual readers as well as academics and historians.
Rizaliana Encyclopedia
Featuring articles tailored for a wide readership, the "Hip n' Free Philippine Encyclopedia" will serve as a supplement for Filipiniana.net's offerings and provide additional information and essential facts to round out our picture of life during Rizal's time, allowing us to better appreciate his contributions to society.
Digital Rizal
Jose Rizal did not only pen social commentaries and complex narratives. He also wrote kwentong bayan, or tales for country folk, as well as stories for children, such as Ang Pagong at ang Matsing(The Turtle and the Monkey), a fable about the virtues of friendship and honesty.
In order to let today's children better appreciate this timeless tale, the Vibal Foundation will release in Jose Rizal's birth month a trilingual interactive e-book of Ang Pagong at ang Matsing for the iPad, featuring an intuitive interface, gorgeous graphics and an immersive score. Noli Me Tangere will also receive the interactive e-book treatment, to be released in installments of several chapters each.
Children and adults alike can enjoy these e-book apps, another milestone for the Philippines' first interactive e-book publisher.
In addition, Vee Press, the Foundation's digital book division, will be re-issuing key translations of Noli Me Tangere and El Filibusterismo, as well as essential biographies of Jose Rizal by renowned authors.
Special Print Editions
In cooperation with Instituto Cervantes, Vibal Foundation will publish a special Spanish edition of Noli Me Tangere and El Filibusterismo, acknowledging the literary and scholarly value of the original text in its original language.
Also to be published are bilingual editions, placing the original Spanish text side-by-side with Charles Derbyshire's famous English translation.
A special edition of Lolo Jose, the biography written by Rizal's grandniece Asuncion Lopez-Bantug, will be released in June. It will feature a new enhanced DVD containing the Lolo Jose documentary (featuring additional interviews with descendants of Rizal's siblings and historical experts) and a compilation of texts and images from The Complete Jose Rizal, also available on Filipiniana.net.